The Grand Hotel Principe di Piemonte is an institution of Versilia, a precious jewel of Art Nouveau and synonymous with the finest hospitality for the past 101 years, which recently launched its 2023 season. A member of The Leading Hotels of the World, this elegant building, while remaining true to the style and atmosphere that over time has won the hearts of the biggest names in entertainment and culture, has kept up with the times, and today its 80 rooms, veranda, public and private lounges, and spa have been completely renovated. In the large veranda–that the recent restyling transformed into a dreamy golden gallery–we find the restaurant Il Piccolo Principe, where Giuseppe Mancino has been head chef for the past 18 years.
His commitment is founded on a passion that earned him his first Michelin star in 2008 and his second in 2014, making him Italy's youngest chef with two stars and the only one in Versilia. This record was achieved thanks to his successful embrace of a new concept of high-end hotel catering that focuses exclusively on local specialties: seafood and Mediterranean flavors that also recall Mancino's Salerno origins. Constantly evolving and updating not only the aesthetics of the dish, but also the combinations of flavors and textures, his recipes are also distinguished by his passion for research and respect for raw materials. Thus, the restaurant's signature dishes feature 'Crispy red mullet, fennel cream with basil, vegetables and caciucco sauce' and 'Calamarata di Gragnano cooked in a jar with seafood, squid, shellfish, asparagus and lemon.'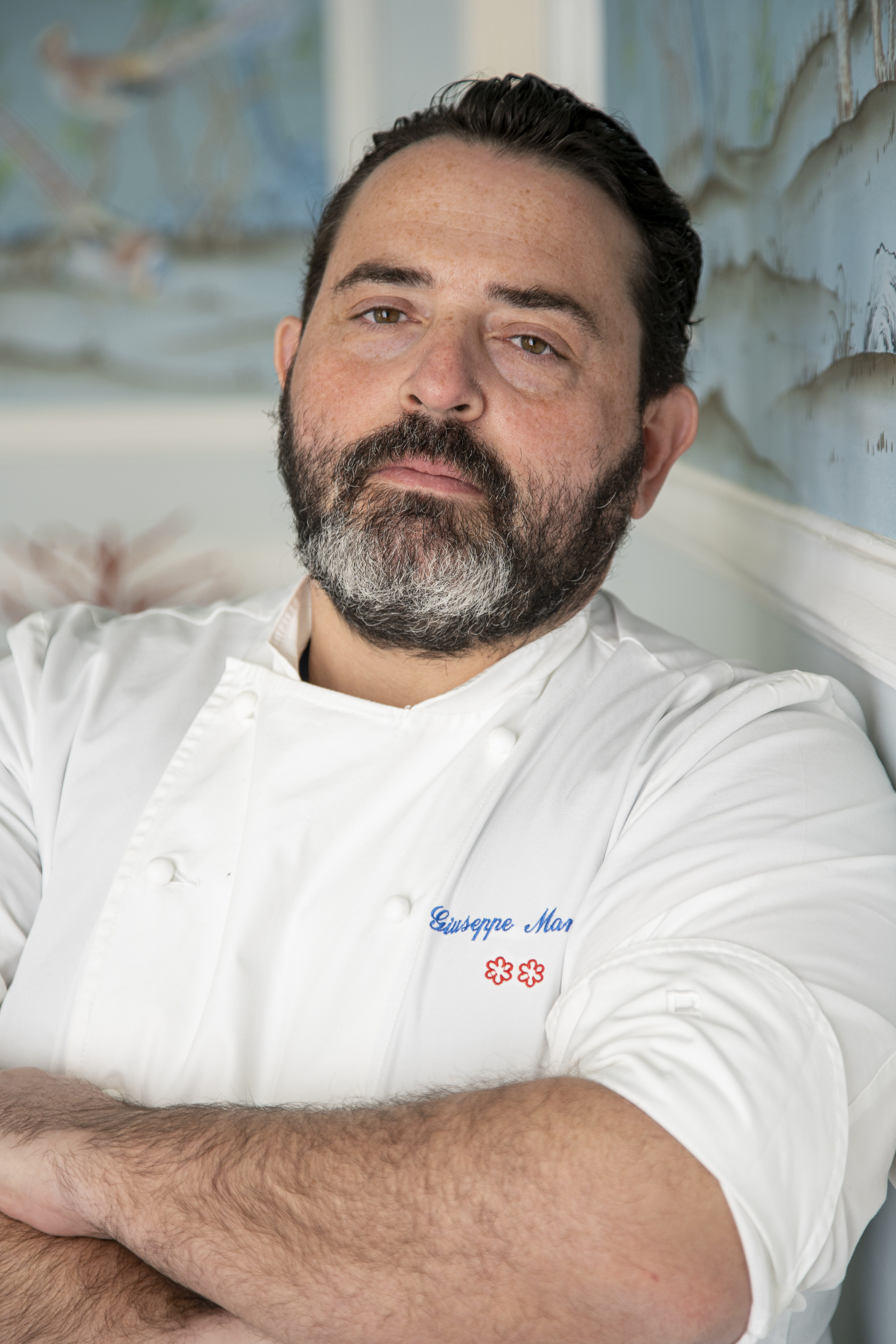 "To build a dish," Mancino tells us, "colors are crucial. For me white porcelain is an absolute must. I see it as a canvas that I bring to life. The colors of the different courses recall the seasons, and my favorites are red and green because, being from Campania, I have seen and eaten tomato and basil since I was born. They are colors that represent the flavor, the juice. But I also really love purple and, lately, the yellow that I extract from tomatoes. To play with shades, I work consistently. For example, if I want to make a green-only dish, I keep in mind the main food in the recipe– asparagus–and work on the different textures created by different ways of cooking.
This enables me to produce a result where the green–in this case–will be degraded in correspondence with the different textures and shapes of the main food. In fact, along with the colors, we must always think about the shapes that complement and enhance the color play."
In the new menu proposed for summer 2023, the chef–flanked by the new Food & Beverage director Davide Macaluso (with more than 20 years' experience in the hospitality industry in Italy and around the world)–is therefore focused on vegetables, to rediscover ancient and genuine flavors by transforming them into high-impact taste, smell and visual experiences. His never-ending research continues even during the months winter closure, which Mancino uses to achieve perfection, discover new flavor combinations and develop exciting new culinary offerings.