76 years ago, on February 12, Christian Dior showed creations on the catwalk for the first time in Paris, in a room full of flowers, his great passion. He debuted an innovative fashion idea that - in the aftermath of the Second World War - sought use designs modeled on the curves of the body to give women back the carefree feeling and self-appreciation that the austerity of war had locked up and hidden, without however ever managing to suppress, in female intimacy. This was the 'New Look', as it was immediately baptized by Carmel Snow, editor-in-chief of Harper's Bazaar. A revolutionary style that - starting from the shape of the dress - urged women to develop the awareness of a new critical sense of their condition, freeing them from the weight of judgment and prejudice. 
More than 70 years after that day, Monsieur Dior burst onto the stage of Sanremo, re-interpreted by special guest Chiara Ferragni, co-presenter alongside Amadeus and Gianni Morandi for the opening evening at the Ariston theater.
Arguably the first and most famous influencer in the world, she chose to wear Dior, with dresses today designed by Maria Grazia Chiuri and custom made for the occasion under instruction by Chiara herself and her invaluable general manager Fabio Maria Damato, for her debut at Sanremo. Four looks and four messages - that it is to be believed Christian Dior would have liked - that grabbed our attention and got pulses racing among TV audiences.
More than 70 years after that day, Monsieur Dior's invitation bursts onto the Sanremo stage, reinterpreted and interpreted by godmother Chiara Ferragni
The first, a tribute to the couturier's 'corolla' dress, cinched at the waist with a wide, rounded skirt. A classic that Chiara turned into a manifesto, with the claim Pensati libera (Think yourself free) embroidered on the white stole with which she made her entrance, back to the audience, at the top of the Ariston staircase. The second was a creation in flesh-colored tulle embroidered with a trompe l'oeil to give the illusion of Chiara's naked body. A dress that serves as a reminder that the female body should never be a source of shame; an invitation to reaffirm the right to put yourself on show without ever having to feel judged.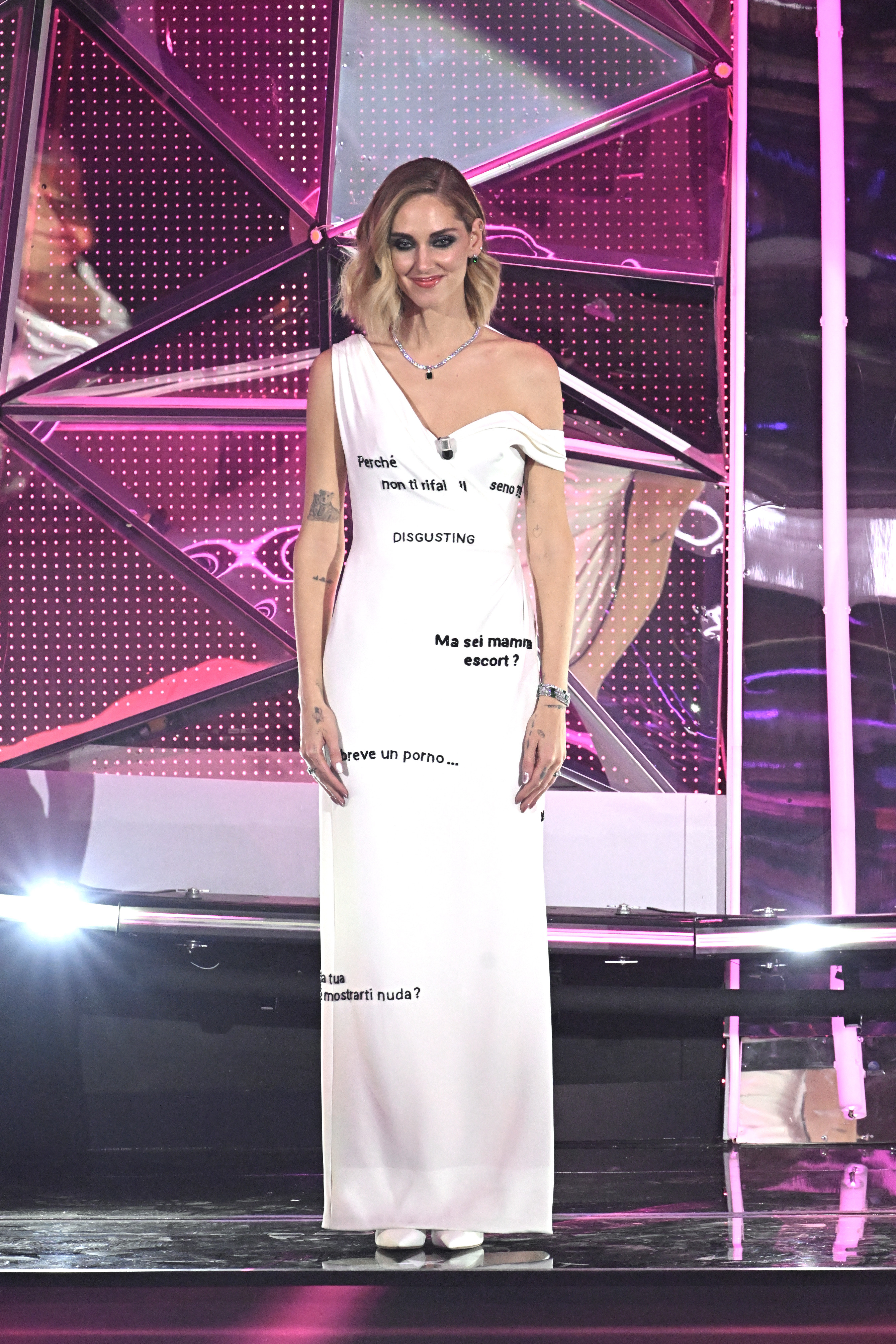 The next was a white dress "dirtied" by just some of the insults and sexist comments that women have to deal with every day, especially on social media. Finally, the cage dress that Chiara herself described in a long post on her Instagram profile, where she explains its philosophy. "Freeing the new generations from gender stereotypes in which women often feel trapped. This is the idea that Maria Grazia Chiuri wanted to represent with this Dior haute couture dress made of a rhinestone-embroidered jersey jumpsuit trapped in a tulle skirt that takes its inspiration from the work of Jana Sterbak. This dress represents the hope of breaking the conventions imposed by patriarchy. A hope that we place in the little girls of today who will be the women of tomorrow. This is a mother's wish for her little girl, that she may finally shout Vittoria!" [TN: play on words, Vittoria, which in English can be Victoria or Victory, is also the name of Chiara's daughter]