The inseparable clarinet that he carried everywhere, even in his basketball kit bag. Berets, fur hats and sailor caps. The 'ruthless' report card from Galvani Highschool in Bologna (F in math). The shows in Manfredonia, when as a smack boy he was the 'trailblazer' at the fashion show organized by his mother (a seamstress by trade). The train set and music box he played with in the cinema room at the house on via D'Azeglio in Bologna. Unpublished manuscripts, videos, posters, stage costumes. And the shots of encounters with a lifetime with personalities from the art of culture and religion (Pope John Paul II, the Dalai Lama): an encyclopedia of more than 250 people. The echo of the "Evening of Miracles" in Trastevere. The universe of Lucio Dalla arrives in Rome with the exhibition "Anche se il tempo passa" ["Even if Time Passes"].
On the tenth anniversary of the artist's death, the capital –  until January 6, 2023 – is another important stage in the journey that began in Bologna and will continue next year in Naples, Pesaro and Milan.
"I have never met anyone as generous as Lucio Dalla", recalls Carlo Verdone, who had timidly ("I has a bit scared") asked him to write the songs for "Borotalco". And "Cara" continues to accompany the success of the film, in which the main character is a die-hard Lucio fan. Dalla "returned to Bologna for the premiere of Borotalco", says Verdone, "but the cinema was full. Only space on the floor. So he made himself comfortable. He called me at 8 the next morning. 'Thanks for the homage you made to me with this delightful comedy', he said".
Rome was a magnet for Lucio. He lived there for 25 years, until 1986, in vicolo del Buco in Trastevere. He established strong friendships (with Antonello Venditti or Francesco De Gregori) and wrote some of his masterpieces in the eternal city, most notably "The Evening of Miracles" which he composed looking out of his apartment window.
The capital was complicit in memorable encounters: with Federico Fellini, for example, or Andy Warhol, with whom he ended up playing pinball at the Notegen on via del Babuino without even knowing who he was. In Dalla's words, "Rome has a unique ability to override one's own energy, whether positive or negative. This is why I love it".
The capital was complicit in memorable encounters: with Federico Fellini, for example, or Andy Warhol
"I am his oldest friend", jokes Renzo Arbore, thinking of their childhood years when the singer's mother would travel down from Bologna to Foggia to introduce them to the latest fashion from Emilia Romagna. "We have always been united by our great passion for the clarinet", recalls Arbore, "and for Puglia too. He had a great imagination and a great passion; he was able to draw on all kinds of music, from jazz to reggae and Neapolitan melodies".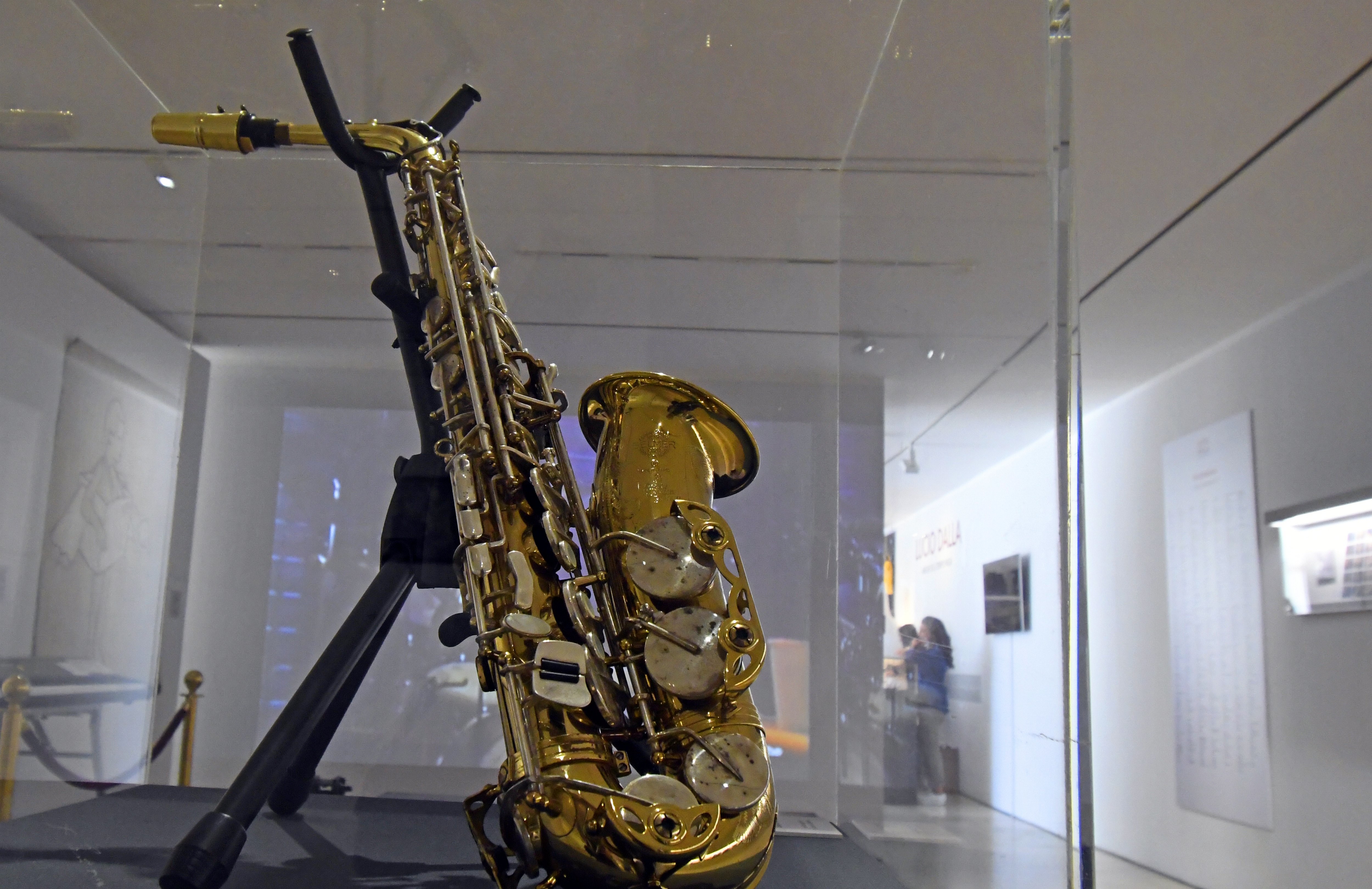 From childhood to success. From his early years on tour around Italy with the theatre organized by the maestro Dellos, to the improvised shows in the small bars of Bologna, to the songs in English (a language which he did not speak) with friends on the beach.
A gifted 'tramp' with his attention on those who come last. This was Lucio
Then there were the various Sanremo competitions and his consecration. The exhibition follows Dalla's life – as a man and as an artist – through the words of those who walked with him, like the chairman of the Lucio Dalla Foundation, Andrea Faccani. "He always organized lunches for homeless people at Christmas. 'Only the nobility have beards', he would joke. He would invite everyone. And he always said yes". A gifted 'tramp' with his attention on those who come last. This was Lucio.
So much talent, so much passion, enclosed within the walls of the Ara Pacis. And Lucio would smile if he saw the mountain of material on display. With biting irony and a poetic gaze, he won the hearts of all. Not only as a musician but also as an actor, writer, theatre director, sports fan and lover of engines, dance, opera, painting and literature.
For Dalla, music was "rain falling from heaven
Among the music and images, visitors can also read unpublished reflections that the artist wrote in his notebooks. "I have never tried to force karma, I always lived my life like a dog close to the heater, almost watching it from afar without betting a dime on how it would ultimately end up; not out of stinginess but because, curiously, I preferred to wait".
For Dalla, music was "rain falling from heaven; everyone can sing, tone-deaf people do not exist, trust me! Some people are slightly handicapped, some people are undecisive, but when their hearts really get beating, everyone can sing".