Antique charm combined with sophisticated comfort, a bar ranked among the top 25 in the world, Michelin-starred cuisine, a clientele of artists, writers, intellectuals and the international jet set who feel protected and pampered. This is the Hotel Locarno, an Art Nouveau treasure in Via della Penna, just a short walk from Piazza del Popolo. Here, Alberto Moravia and Elsa Morante were home from home, Roberto Rossellini met Ingrid Bergman and Federico Fellini relaxed over a good drink, in the company of Giulietta Masina.
In the 1960s and 1970s, its lounges featured a continuous coming and going of painters – then penniless – from the School of Piazza del Popolo: Mario Schifano, Tano Festa, Toti Scialoja, Andrea Cascella, Giosetta Fioroni.
Founded for the Jubilee in 1925 by a Swiss family, the hotel is preparing to celebrate its first hundred years in excellent health. Thanks to the energy lavished by the current owner, Caterina Valente, daughter of the unforgettable Maria Teresa Celli, a woman of great charm and a point of reference for all guests at the hotel.
The world has passed within these walls: the Locarno has inspired books, films, plays
"The world has passed within these walls: the Locarno has inspired books, films, plays. We still keep the poster, which has become the hotel logo, designed by the famous illustrator of silent film Anselmo Ballester," says Caterina, who has drawn inspiration from her frequent travels around the world, proving very successful: in 2007, she opened the bar – already very famous among the hotel guests – to the local public.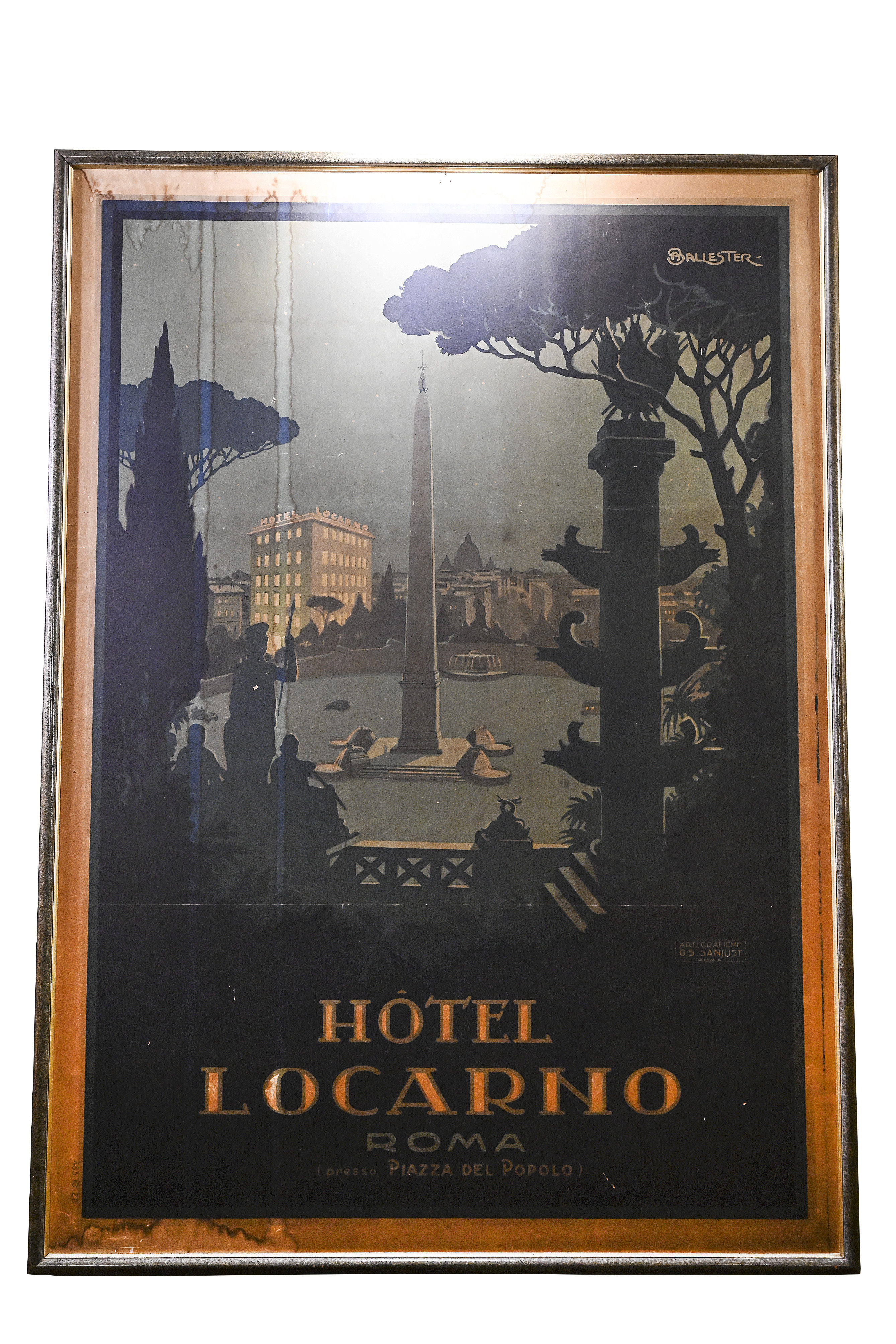 "I absolutely was not looking to become trendy," she explains, "but we had a launch party with 1,200 people, and the next day we already had a queue outside. So much so that I had to ban drinking at the bar and make reservations mandatory. I hired the best barmen on the market and researched how people drank in the 1920s, re-proposing historical drinks with minor revistations."
Hence, our expert barman Nicholas Pinna rustles up top quality cocktails, such as the Roma Bracciano, the house specialty, (Campari, Rabarbaro Zucca and Vermouth Antica Formula, very bitter and not too strong, served in a cocktail bowl with orange peel), a reworking of the historic Milano Torino. Or the original 'Wolf I solve problem' (gin sour with Orange Curaçao), suggested by the American actor Harvey Keitel, during a stay at Locarno, in homage to his performance in Pulp Fiction.
"We don't use regular vermouth. We look for the niche. We focus on the craftsmanship of the product and choose only the very best." The kitchen is open 24 hours a day, there is no fixed location for meals, which can be eaten anywhere, for example by the fireplace. "Our customers do not like to be treated too preciously; they are looking to relax, and we are very quick to satisfy their every need," smiles Caterina. "VIPs feel very protected in our establishment; I have lots of customers who prefer us to 5-star hotels."
The top dishes on the menu – carefully prepared by chef Domenico Smargiassi – are Amatriciana, Pacchero cacio e pepe with Marsala prawns, and a hotel classic, the club sandwich. "We have American customers who have been coming here for years and they always order it." And for aperitifs? "We serve a lot of tempura and fried artichokes. We had a fryer built with a special temperature range that makes them very crunchy." Chef Smargiassi is very proud of his work: "The Locarno is a beautiful fairy tale that we keep on writing every day. It is a hotel that carries a lot of history behind it in the little things. The Locarno welcomes you in and keeps you."
The Locarno is a beautiful fairytale that we continue to write every day. It is a hotel that in small things carries a lot of history behind it
Here, the staff easily become "friends" of the guests because the owner selects them not only on the basis of their professional skills but also on their cultural interests. For example, producer Fabio Marini was looking for someone for a play and could not find the right person. By chance, he noticed a waitress at the hotel – red hair, green eyes – who was working to pay for her acting classes, and he hired her. She is now a theater actress.
The recent history of the hotel began by chance: in the early 1960s, Maria Teresa Celli, an interior designer, was looking for small penthouses to renovate and came across this little hotel, a portion of which, on the second floor, was for sale. She bought it, and little by little went on to acquire the entire building. It is home to many valuables that mother and daughter have collected over the years, traveling around Italy and beyond.
A 1920s coffee machine, formerly owned by Cipriani in Venice, comes from Argentina. After purchasing a 1905 building that belonged to the historic Canossa family, there began a ten-year renovation of the hotel, which was completed last year. "We wanted to preserve the 1920s style, as our guests urged us to do, reducing the number of rooms to make them more comfortable, and fitting them with super bathrooms," Caterina points out.
In the most important room – 605, Matilde di Canossa – the American director Wes Anderson stayed for weeks while writing the screenplay for the film Grand Budapest Hotel. This is just one of the many characteristic anecdotes of the history of the Locarno; a hotel that has great respect for its past, while very much looking forward to celebrating its fifth jubilee.