How do you fall in love with a color? Gianni Maimeri has unearthed the right answer to a question that–given its subjective nature–appears unsolvable. Easy, you might say, for he who is the CEO of Industria Maimeri, Italy's largest color company. And whose grandfather, Gianni Maimeri, was a painter of distinction in early 20th-century Milan and also the founder with his brother Carlo, a chemist, of one of Italy's first factories of color for the fine arts.
But the Gianni Maimeri talking to us at the headquarters of the "Milano Painting Academy"–a white room dotted with easels and filled with the milky light of Milanese spring streaming through the glass wall–has never settled for serving up the obvious for someone who grew up, as he did, on "bread and colors."
"No, I came up with a theory, which was the result of reflection. It happened whilst I was writing my book Il colore perfetto (The Perfect Color). The book came about completely by chance: during one of my talks, the editorial director of Il Saggiatore approached me and put forward the proposal. I thought he was talking about a story about my grandfather; I was full of doubt, uncertainty about possible core subjects I could write on. He cut things short by sending me the contract; I accepted. One thing was clear to me early on: it would not be a general overview of painters. Instead, I wanted to focus on a range of talented artists, whom I know well, operating in different fields. United by–how can I describe it?–coexistence with color: architects, Michelin-starred chefs, neuroscientists, advertisers, designers, fashion designers, photographers, such as Steve McCurry."
One thing was clear to me early on: it would not be a general overview of painters
And here we need to digress: to explain how the company founded exactly one hundred years ago by Gianni Maimeri (1884-1951) and his brother Carlo (1886-1957), in the former Mulino Blondel building, in La Barona, a suburb of Milan, grew with a progression of excellent achievements, which not even protectionist Fascism and even World War II–necessarily favorable for domestic markets in each state–could stop. Thus CSM–Colori Stabili Maimeri, with a tetrahedral logo featuring one letter of the acronym on each side of the pyramid–went from the initial twenty colors to a series of watercolors, temperas, thinners, color boxes, the fine selection of restoration paints, up to Maimeri Tempera Grassa, a reproduction using synthetic ingredients of the egg tempera of the old masters.
And how, under the painter's son, Leone–a chemist–the company gradually grew from 15 employees in the 1930s to today's workforce of 70. And how it moved first to Via Ettore Ponti, along the Roggia Carlesca, and then to Mediglia. And how it created new colors in synthetic resins: acrylics. It extended production with ranges adapted for advertising signage, ceramics, fabric, glass, modeling, polycolors for murals, for set design: second-generation acrylics capable of thick applications in iridescent and pearlescent colors.
"Though I always had my grandfather's starting principle fixed in my mind," Gianni Maimeri Jr. proudly points out, "who, a hundred years ago, manufactured oil-milled colors for artists; i.e. oil plus pigment, no waxes and no additives." In 2014, Gianni Jr. welcomed the merger between Maimeri and Fila, which also includes the Giotto brand.  "And they were fine quality pigments: emerald greens, lapis lazuli blues, cobalt violets, cadmium yellows and greens obtained from cobalt and chromium."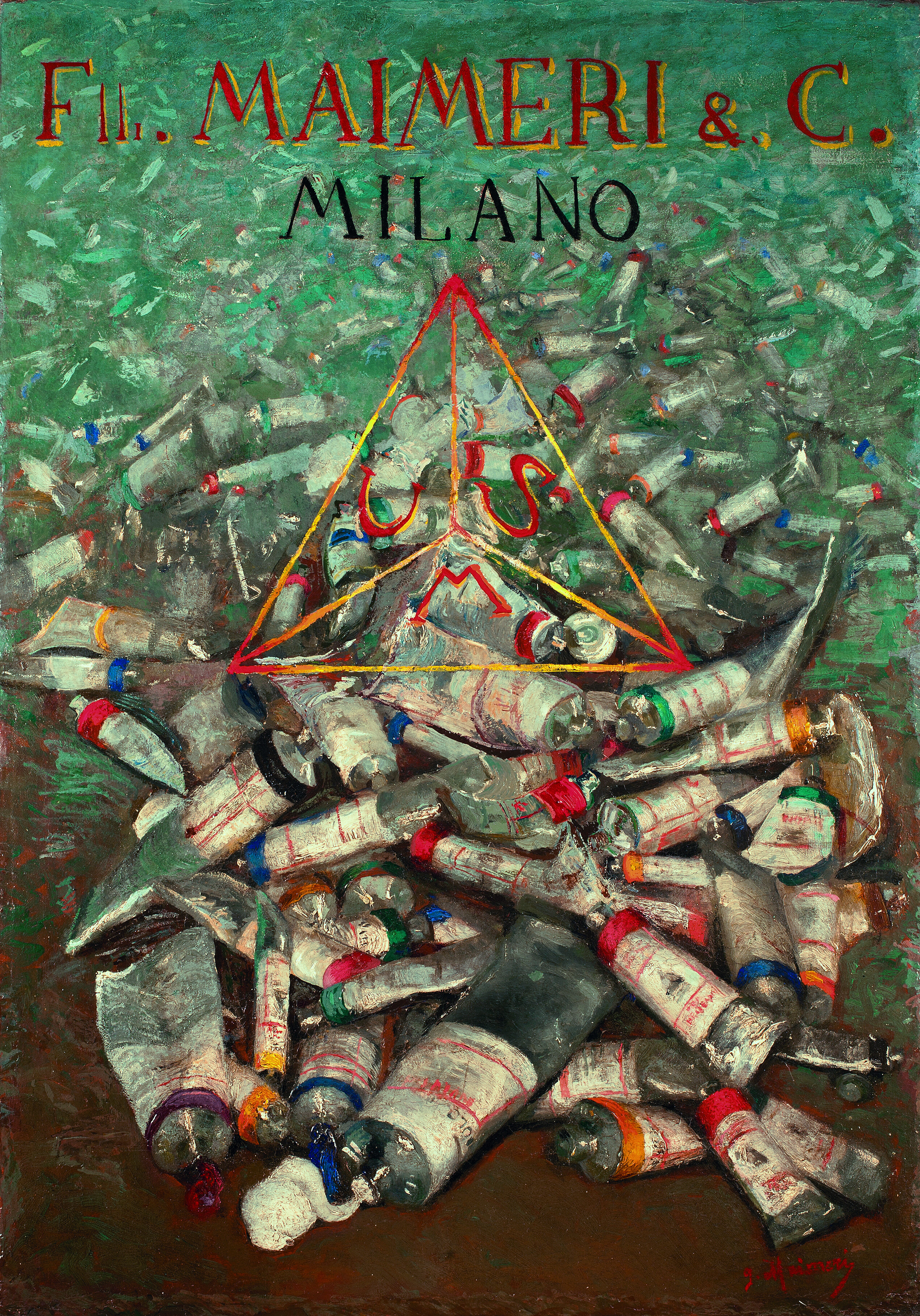 It was the starting point for arriving at his perfect color theory. Through a long journey. "While writing the book, I began to wonder if there is something intrinsic to color that creates a strong, unpredictable attraction. From my encounters with a wide variety of people and from my own experience, I reached the belief that this love at first sight is related to the purity of color. I sought confirmation. One came to me from Professor Vanzulli, chief radiologist at Niguarda Hospital. He scrolled through the CT scans quickly, but if he caught a dystonic element, then he would look more carefully. In short, he preferred a quick glance. The same thing happens to me in front of the facades of buildings. What attracts my attention is not the sequence of shades, but a detail, such as a shutter painted in a different color. Ditto, when I visit an art gallery: a glance helps me to focus on specific works. For example, I am bewitched by lapis lazuli blue. So, everything comes full circle. In 1923, my grandfather set himself the mission of creating pure colors. My father, twenty-five years ago, when he decided to produce a top range, wanted it to be single-pigment, not a mixture of several colors. A romantic rather than a commercial choice. Because for a range of 80 colors, you have to have 80 different pigments. Instead, the more you mix them, the more shades you get. Finally, with my theory, I demonstrated the solidness of his business decision: the purity of color creates a special form of attraction. And this was confirmed to me by Lamberto Maffei, former president of the Accademia Nazionale dei Lincei and one of the leading researchers on the neurology of perception: the signal reaching the brain from pure color is greater because no inhibitory mechanisms are activated. That signal is, in short, much stronger. This explains the attraction to the blue of Bellini's Madonna [TN: Madonna and Child, 1510]. The litmus test is in the rainbow. It should jump out at you, but out of four people in the same car, only one person notices it. Because the colors are not pure, they get lost in each other."
It follows from all of Gianni Maimeri's reasoning that blue is his favorite color. "Exactly. I like it because it is eclectic; you choose it for formal dress but also for casual outfits, for jeans. But preference is determined by where we live and when. Until two centuries ago, blue was not synonymous with elegance. In the 1960s, it was gray. And then color is also evocative. In the East, white is associated with funerals. It is in any case culture and experiences that motivate our choices."
I care about being a leading 100% Italian enterprise while simultaneously stirring up knowledge
Thus there is a natural connection between industry, art and knowledge. "I care about being a leading 100% Italian enterprise while simultaneously stirring up knowledge. I started the Maimeri Foundation, which promotes young artists and culture in general. Milan Painting Academy, a women's enterprise because 80 percent of the shareholders are women, is closely linked to the foundation. Through social initiatives, we support hospitals and the San Vittore prison, for which–with the involvement of the Triennale di Milano–we developed the project Spazio alla Bellezza (Space for Beauty) for the regeneration of both buildings and people."
Meanwhile, events are being prepared for the centenary. "The Ministry of Industry will issue a commemorative stamp and, on May 10, there will be a conference at Milan State University attended by Stefano Boeri [TN: architect, urban planner and politician] and the presidents of the Dynamo Camp, Olivetti, and Giuseppe Verdi Foundations, among others. In September, there will be a multimedia show by Igor Loddo with Giuseppe Califano to tell the story of Maimeri and its connection to the events of the 20th century."
"I didn't know my grandfater," Gianni recalls, "but I often go back in my mind to these words of his:
What for you is a delightful flower, an object of notion or a source of sentiment, is for me an arrangement based on pink lacquer, powder blue, white and pale yellow, slightly cooled by emerald. While not ceasing to be a flower."