Alessandro Manzoni, the author of I Promessi Sposi (The Betrothed), part of the curriculum in every school in Italy, died on May 22, 1873. To celebrate the 150th anniversary of his death and following the success of PaperDante, a comic book dedicated to another giant of Italian literature, Dante, PaperManzoni will be released on May 17. Published by Giunti Editore – Disney Division, conceived and developed entirely in Italy, it is an original tribute to the Milanese author, through the original illustrated story written by Augusto Macchetto, with drawings by Giada Perissinotto and Lorenzo Pastrovicchio, artist duo who are also a couple and recently...betrothed, and colors by Andrea Cagol.
 The book describes an imaginary episode in the life of Alessandro Manzoni, set at Cascina Costa on the shores of Lake Lecco. The protagonist is little Alessandro (Donald Duck), who returns to these much-loved places with his rather grouchy uncle (Scrooge McDuck), to be reunited with his governess Caterina (Grandma Duck), who cared for him from when he was a little boy. Here he is also reunited with his dear friend Tonio (Fethry Duck), companion in many races and adventures. The two of them, in the midst of a golden autumn, with the smell of fog and polenta cooking over the fire, are watching a leaf that just doesn't seem to want to fall off the branch: "Is it magic?" they wonder. Amelia the sorceress, not far away, is watching the same leaf. She knows that it is magic: indeed, until it falls of the branch, winter cannot begin. This leaf will be precisely the symbolic and guiding element of the tale: in a world yet to be discovered, seen through the eyes of those who do not know and therefore unexpected and extraordinary, a tale of complicity and friendship unfolds, made up of paths that meet, follow one another and are divided, only to be reunited and never leave each other again.
The book describes an imaginary episode in the life of Alessandro Manzoni, set at Cascina Costa on the shores of Lake Lecco. The protagonist is little Alessandro (Donald Duck), who returns to these much-loved places together with his somewhat gruff uncle (Uncle Scrooge), to re-embrace his housekeeper Caterina (Grandmother Duck), who has cared for him since childhood
"In this tale, for fun and with affection, we brought a young Alessandro Manzoni back to the meadows of his childhood and surrounded him with the magic felt by every boy and girl when faced with the world," says Veronica Di Lisio, director of the Disney Division Director and publishing at Giunti Editore. A world viewed through eyes ready to marvel at the extraordinary things it has to offer. If we had happened to be there, we might have seen a disheveled child with his cheeks flushed from running about with his friends. Would Alexander feel nostalgia for those days once he grew up? Would they be an inspiration to him in his writing? The magic of being children who view the world with curiosity and innocence and the genuineness of friendship, capable of overcoming even the toughest obstacles, are some of the ingredients that will make PaperManzoni a sweet and moving read."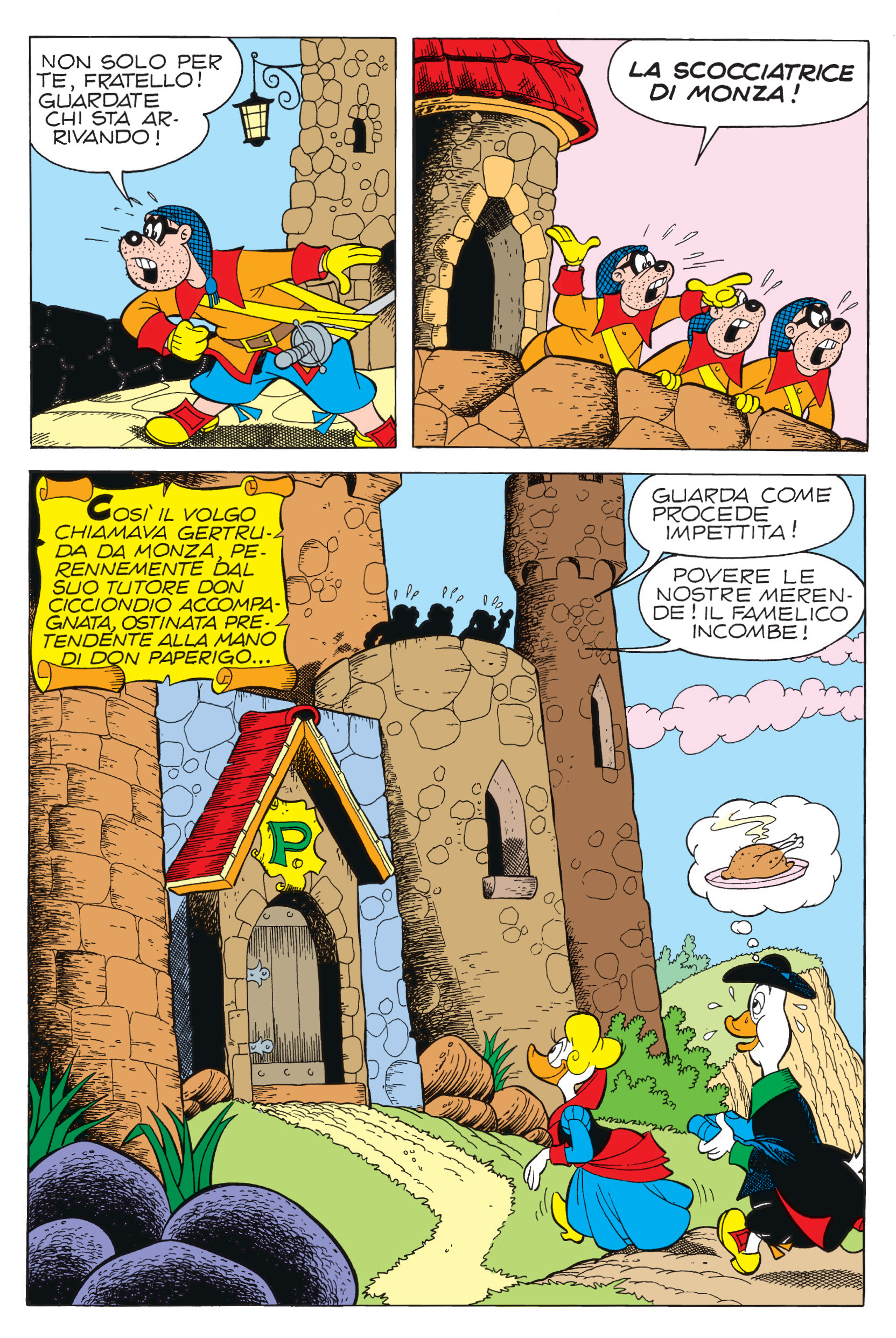 The story is inspired by real events. Manzoni did spend his childhood in the countryside on a farm near Galbiate, near Lake Lecco, in the care of his wet nurse Caterina Panzeri. PaperManzoni also opens with a branch–but in this case it is not the branch of a lake, but of an enchanted tree. The place depicted in this original Disney tale is a place dear to the heart of little Alessandro, where he meets characters and experiences moments that would later be masterfully portrayed in the novel he would write "as a grown-up." 
"When the proposal was made for a story about Alessandro Manzoni, I immediately felt like disheveling him a little bit," explains Augusto Macchetto, author of the story. He is known for his distinguished, elegant and well-mannered portraits. But was he really so composed even as a child? Or, like everyone else, will he have been up to his mischief, got his clothes dirty, returned home disheveled? Because, between the lines of The Betrothed, we also sense a great desire to rebel, to do the very thing people don't want you to do. So, I imagined a child a bit ruffled, cheerful, restless: he was a little Donald Duck. And that's when the hair became feathers, and PaperManzoni took off immediately. Someone will stop me, saying non s'ha da fare [TN: 'it must not take place', as commanded in The Betrothed, with regard to the marriage], I said to myself, but it certainly won't be me."
In addition to this tale, the volume also reissues in closing The Betrothed, one of Disney's most famous and beloved literary parodies. This story published in 1976 features Donald and Daisy Duck as the famous protagonists of Manzoni's novel. The funny and memorable characters include Paperenzo (Donald Duck) and Lucilla Paperella (Daisy), La Scocciatrice di Monza (Brigitta MacBridge), Don Paperigo, the Bravotti (Dachshunds) and many others.